Boise River Flood Control District #10 was formed by a group of proactive farmers in December 1971. To commemorate Flood 10's history, we created a 4-part series of stories and photos to inform and educate the public about how and why the district was formed, share many of the challenges that river managers faced then and now, including flooding and riverbank repairs, and collaborative efforts to manage the Boise River for the benefit of everyone in the future.
Who is Flood 10? What do they do? Flood District 10 conducts winter maintenance on the Boise River (from Plantation Island in Boise to Caldwell) to maintain the Boise River channel and prevent damage to private and public property. Flood #10 also works with private landowners on streambank repairs.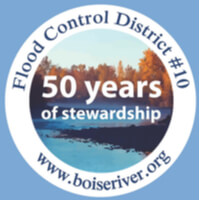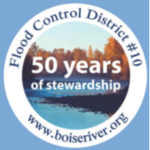 Part 1
Part 2
Part 3
Part 4
Part 1
Part 1: Flood 10 Evolves Over 50 years to Chart More Proactive, Progressive Management of the Boise River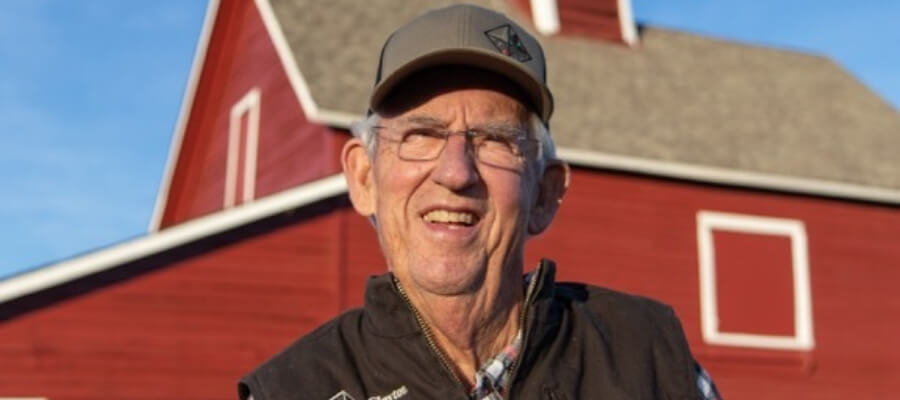 Bill Clayton dipped his toes into the Boise River before his first birthday. He spent every summer on his grandparent's farm on the river near Star. Clayton milked cows before dawn and looked for ways to go fishing when the work was done.
As a Captain in the Marines during the Vietnam War, Clayton flew Huey gunship helicopters. Later, he and his wife, Diane, moved to a river ranch across the river from his grandparents, Lazarro and Ines Urrusuno. They raised their family there and built a large wholesale tree farm business from scratch.
Clayton joined the three-member board of Flood Control District #10 in 1989. He's served on the board for more than three decades.
In the Marines, when he was learning how to fly, he'll never forget his flight instructor sitting behind him, hitting Clayton on the head with his clipboard, saying, "You fly the airplane, get ahead of the airplane. Don't let the airplane fly you."You fly the airplane.
After Clayton got involved with Flood 10, he felt like "we're always just reacting to the river. How can we ever get ahead and be more proactive in managing the river?"
Now, as Boise Flood Control District #10 celebrates its 50th anniversary, Clayton feels as if the district is finally getting somewhere with proactive management. The district is developing a Boise River 2-Dimensional Model Tool in cooperation with the Army Corps of Engineers and more than 10 partner entities that have a stake in Boise River management.
This high-tech tool will allow Flood 10 and partner agencies to run this new and innovative computer model to see what kind of impacts will occur to the Boise River floodplain, community infrastructure, and adjacent property when simulating flood flow above 6,500 cubic feet per second (CFS). The impact areas reflect off the map with bright colors and highly detailed lidar aerial photography. The model runs will show where flooding might affect the private property and public assets like river bridges, how sediment flows and gravel bars may be moved or increased by flood flows, and what kinds of solutions might exist to avoid the damage.
"I'm excited as hell about the Boise River 2D Model Tool," Clayton says. "Finally, we're getting to the point where we're flying the airplane. We're getting ahead of the curve."
"We've gone from a reactionary agency – something happens, we go out and fix it – to one that's trying to get out in front of the issues, look at potential flood flows, predict where we'll have problems, and work to address those problems," adds Mike Dimmick, District Manager for Flood 10.
"Close to 2 million yards of gravel are moved by the Boise River during spring flows every year," Dimmick says. "That's a lot of material. Most people have no idea that occurs. All of that gravel and sediment movement has impacts up and down the river. With the model tool, we can pinpoint those areas more easily and develop solutions to address the issues."
Flood 10 is responsible for doing channel-maintenance activities on the Boise River during low-flow periods in the winter months inside its jurisdictional boundaries – from the Plantation Island area in Garden City downstream to the city of Caldwell – to protect private and public property.
The Boise River is the centerpiece of the City of Boise. It's widely valued by people up and down the river for farming, ranching, irrigation, fishing, recreation, floating, surfing, fishing, residential development, and more.
Under the original order, Keith Higginson, the Director of the Idaho Department of Water Resources in December 1970, concluded that the creation of Flood Control District #10 "is necessary, practicable and feasible, in order to provide control of the Boise River and its tributaries in the affected area to protect life and property, preserve the public health and welfare and conserve and develop the natural resources of the State of Idaho."
Along with the creation of the Flood District came the authority to levy a small tax (.06%) on property owners who lived adjacent to Boise River or nearby to cover the cost of maintenance and river-bank stabilization activities. About 25,000 acres of land were included in the original boundaries of the taxing district; those boundaries have not changed substantially since.
It should be pointed out that the words "Flood Control District" are a bit of a misnomer for Flood 10, officials said. The actual control of Boise River water flows during the spring months when flooding can be imminent, is the responsibility of the Army Corps of Engineers and Bureau of Reclamation via the storage and release of water flows in three large reservoirs upstream of the City of Boise. Lucky Peak, Arrowrock, and Anderson Ranch Dams all have a combined capacity to store about 1 million acre-feet of water.
Clayton doesn't like the name, either. "Let's be honest, no one controls a flood. You try to manage floods and prevent the damage as much as possible. That takes a team effort, and we're part of that team. But mainly, we are a river maintenance district," he says.
The work of Flood 10 is regulated by state and federal permits, allowing the removal of tree snags in the river channel, trees about to fall in the river, and other debris during the winter low-flow period between late October and March. This is a time when Flood 10 works to assist landowners with streambank repairs and do maintenance on the river channels to prevent damage to public and private property.
Fifty years ago, when a District Court judge granted the petition to form Flood 10 in December 1970, farmers were most interested in keeping the channel clear of trees and debris. The interests of trout anglers, recreational river floaters and others were not top of mind, at least to the three farmers who served on the original board, beginning in 1971. This was a time when concrete rip rap and old car bodies were used to shore upstream banks, bulldozers were used to push up gravel to maintain irrigation diversions, and the Boise River Greenbelt was in its infancy.
Over time, as broader discussions occurred via forums like Boise River 2000, Idaho Environmental Forum annual Boise River float trips, and the Boise River Enhancement Network (BREN), Flood 10 officials know they have to balance a multiplicity of interests.
"Boise River 2000 got us talking," says Clayton. "There was very little communication and not much trust between the different groups using the river."
"When I got involved with Boise River 2000 in the 90s, I had no idea what a flood district was," says Tom "Chel" Chelstrom, long-time manager of the Boise REI store, now retired, and an avid canoeist.
"Since that time, great progress has been made," Chelstrom says. "It's gone from we've got a job to do and you're not part of it, to today, where we've got a job to do, and how can we all do it while accommodating all of the other interests in the Boise River."
All of those interests make managing the Boise River "more complex than ever," Dimmick says. "But we are committed to maintaining as natural a river corridor as possible while staying true to our responsibilities as a flood district."
Part 2
Part 3
Part 4